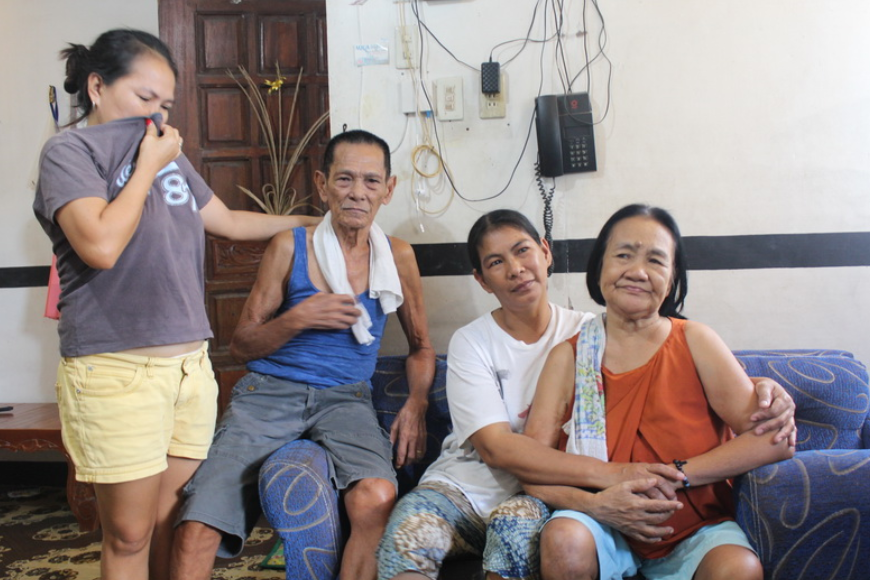 The love of nine comes through for a father
The great love of a father resonates to his children
Despite his age, 77-year-old Ernisto Zurbito is as cheery as his children describe him. He spends his days at the company of two of his nine children at their home in Taytay, Rizal, smiling and laughing as often as breathing. But since being blinded by cataract along with his wife Soraida, he's all but lost his cheerfulness.
By this time, fortunately, he has done his job of raising nine children. His two daughters caring for him, 45-year-old Felomina and 38-year-old Anna, appreciate the sacrifices they made to help them leave the nest. But they couldn't with Ernisto's cataract on both eyes. Felomina especially has to settle with making rags at home as her source of income, not to look away for a second from her visually-challenged parents.
"For all the love they've given us when we were little, now we also want to show our love to them too, if possible," says Felomina, fourth eldest.
Meanwhile the sixth eldest, Anna, dreams of a reunion should her parents' eyesight be restored. The family has barely been able to get in touch with one another since coming to Taytay. Some remain in Palawan, where they settled away from their home province of Masbate, while others settle in the mountains of Rizal and Bulacan. Time will tell when that day will come. But they agree that they've been away from home for far too long.
"If you and Mom can see again, we can go back to our hometown Masbate if we have the money. We will have a family reunion there. That's the only thing I ask for, nothing else," Anna tells her father, who almost breaks into tears.
Seven of the nine siblings can only be accounted for as of this writing, according to Felomina. Regardless, they pool as much resources as they can—especially money—to sustain their parents' needs. They may be scattered, but they try their best to give love.
"Whenever [Filomena and Anna] need something, my sister will call me up. I can only give some financial support. I don't get to visit them often because my children have to attend school," narrates the fifth eldest, Amelita, residing in Rodriguez (Montalban), Rizal. She derives money for her parents from her work as a cosmetics dealer.
Upon hearing from a neighbor about Tzu Chi's free eye clinic, the siblings wasted no time seeking help.
Breaking free
On February 21, Ernisto finds himself eye-to-eye with Tzu Chi International Medical Association (TIMA) ophthalmologist John Arnel Solamo at Cardinal Santos Medical Center. The surgery took longer because Ernisto's cataract was somewhat solid in nature. The device struggled with siphoning the cataract from his eyes, much less mopping up the remains after the first pass.
But after almost an hour, years of blindness is finally over. A post-op checkup at the Great Love Campus two days later confirms his suffering's end.
"Now that he can see with one of eyes, he does not need to be dependent to his child. That child can work and earn money and provide additional income for them," explains Solamo.
Meanwhile, arrangements are being made for Ernisto's surgery on the right eye. Soraida will also get her chance soon.
Once deprived of the privilege to see his children, Ernisto is able to see them for the first time in years. In due time, his daughters will be able to secure more lucrative jobs outside home for the family's benefit. No words can express the joy of realizing that his children have never left him in his time of need. His cheery self is finally coming back.
"Although we are old already, it is important for us to be able to see. We will be happier if we can see our grandchildren and family members," Ernisto shares.
"I really want to see again, because when they are not around, I can help clean the house," Soraida adds.
Grateful for Tzu Chi's help, the family turned over their heavy coin bank after their post-op checkup. But for Solamo, as a TIMA doctor, he should be thanking them.
"This is the job of a doctor, to serve. That is why we should be the one thanking them. If not for them, we will not exist," he says.