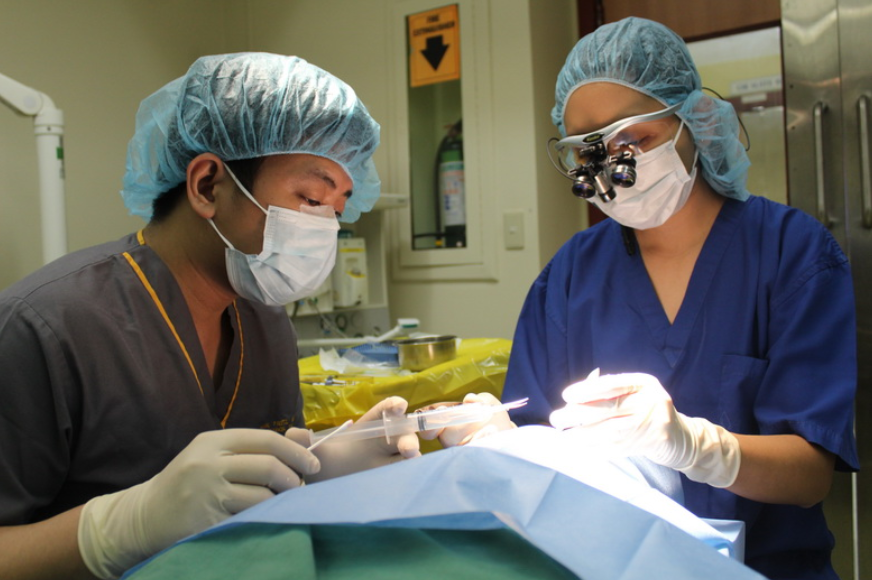 Granting sisters' wish for a clearer vision
Sisters Irene Escario and Gina Logronio, both suffer from pterygium. They underwent separate surgeries at Cardinal Santos Medical Center, under the skilled hands of Dr. Jacqueline Mupas-Uy
With the poor vision they have been enduring, dealing with life's challenges is twice harder for Irene Escario, 57, and, Gina Logronio, 45.
Irene Escario was 48 years old when she first noticed her blurry vision. She thought that it was merely due to her age until a consultation with a doctor revealed that she has pterygium, a condition where a mucous membrane covers the white part (sclera) of the eyes, hindering the patient from seeing clearly. It is common in people living in tropical countries and are exposed too much with ultra-violet (UV) rays.
To avoid further damage to her eyes, Irene was recommended for immediate operation. The procedure will cost her roughly Php20,000, excluding other medical fees. Due to financial difficulties, Irene decided not to push through with the surgery.
Irene is a housewife from Leyte. Her husband is a construction worker who earns Php3,000 a week, only enough to cover the daily expenditures of their family.
Ignoring her eye condition only made it worse. "I stop whatever I'm doing and rest whenever my eyes become painful. Once the discomfort passes, I resume my task," narrates Irene.
Eventually, her situation became too unbearable that Irene sought help from her eldest sister, Nenita, who had undergone a pterygium surgery sponsored by Tzu Chi Foundation in 2017.
"I know the struggles of suffering from a hazy vision so I brought her to Tzu Chi's Eye Clinic in Sta. Mesa hoping that she can regain her eyesight," shares Nenita.
Nenita and Irene was accompanied by their sister Gina when they went to avail of the free checkup. Little did they know that the consultation will also benefit Gina, whose right eye, as it turned out, was also suffering from the same condition as Irene's.
Gina admitted that she first experienced the symptoms 26 years ago. But she preferred to keep it to herself and refused to seek help from her family knowing money is hard to come by.
After assessing their siblings' case, Dr. Jacqueline Mupas-Uy waived her professional fee and offered to perform the surgery. "Their burden must end because apart from worsening the situation, it results to unproductivity," she states.
Dr. Mupas-Uy is on her first year as a volunteer ophthalmologist of Tzu Chi International Medical Association (TIMA) Philippines. She believes that by being involved in charitable works, she can extend her service to more needy patients.
"Tzu Chi has made me an instrument to help them since many patients in the Philippines can't afford to visit a specialist, much less, to undergo a surgery," shares Dr. Mupas-Uy.
On February 19, Irene and Gina underwent separate surgeries at Cardinal Santos Medical Center in San Juan City, each surgery lasted only an hour.
Two weeks after, the sisters have regained their normal vision. Their eldest sister Nenita was grateful for the successful operations. Her sisters will no longer have to endure a hazy vision.
"Now, I am able to see clearly without experiencing any pain. I can read, watch television and do chores without any burden," shares Gina.
The siblings still have to take medications for the stitches to completely heal. But the worst has passed for Irene and Gina.
"Our eyes are the biggest assets we have. Nothing beats a better vision. Thank you, Tzu Chi," Gina ends.