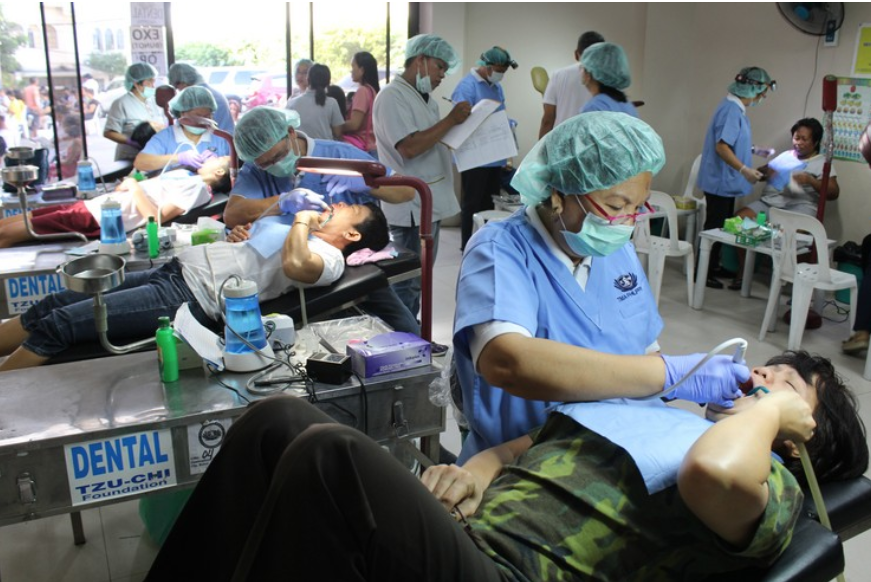 Mandaluyong Catholics experience Buddhist group's compassion
With great care and compassion, TIMA dentists serve the parishioners of San Roque Church in Mandaluyong City.
Tzu Chi Foundation reached out to the parishioners of the San Roque Church in Mandaluyong City on April 2, with free dental services and reading glasses distribution that benefitted 191 needy patients.
Beneficiaries came from the nearby villages of Barangay Barangka Itaas, Barangka Ibaba, Barangka Ilaya, and Barangka Malamig. Some are also active church lecturers.
According to volunteer Carmen Sy, this only proves that great love and compassion transcends religion.
"In Tzu Chi, we treat everyone the same way," she added. "We want to spread the Tzu Chi ideals among the community and take this opportunity to have good affinity with them."
San Roque Parish priest Fr. Aries Celestino Reyes only had good words for the Buddhist group.
"The volunteers are serving happily. They are even thankful that they are here when I should be the one thanking them because they served my parishioners. From this, we can see how very inspiring Tzu Chi Foundation is," he said.
Hoping to provide quality service, Tzu Chi brought its own air conditioners, generator, and dental equipment for the mission. In no time, they were able to turn an empty room into a makeshift clinic ready to accommodate patients. The 17 volunteer dentists who joined the mission also strived to serve the best way they can.
Tzu Chi International Medical Association (TIMA) Dr. Aurorita Tagle-Ybun empathizes with the patients' discomfort in sitting on a monobloc chair, tilting their heads backward as they undergo tooth extraction. Hence, the dentist got another chair and propped up her leg to support the patients' neck with her thigh as she performed the procedure. It was not the most ideal stance for Dr. Ybun and she looked strained. But if it made her patients at ease, it was a little sacrifice she was willing to make.
"We make our patients' convenience and comfort our top priority. We try to treat them as our own paying patients, so all the tender loving care we give to our patients, we also give during this mission," she explained.
Jannelle Ryza Gaspar, 11, appreciated how caring the dentists were. It was her first time to undergo a tooth extraction. The tooth that has been bothering her for almost a year took only a few minutes to be removed. Like the rest of the patients, she also received free medicines. "I feel happy that I'm rid of my bad tooth," she shared, smiling.
Her mother, Jevie, 36, was thankful for the thoughtful service. "Instead of us going to you, you've come here to bring your service to us," she remarked.
Maricel Gadiano, 34, a house helper, also appreciated the chance to have her teeth cleaned. "We were able to save money because of this medical mission," she said.
Touched by Tzu Chi's love and care, many patients expressed their willingness to become donors.
"We may not be well-off in life but there are more people who are suffering," explained Virginia Bulana, 54, holding the Tzu Chi coin can she adopted and vowed to fill with her donations. "In this little way, we will be able to extend some help to them."