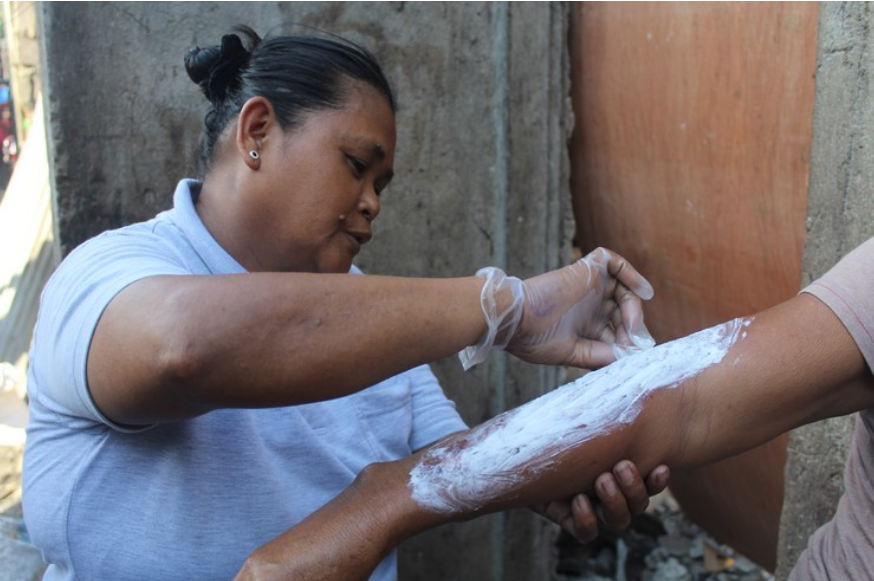 Fire victim's burns warrants extra love and care
Tzu Chi volunteer Zenaida Gaborni applies a layer of Silvex® cream to Jasusa Zuniga's second-degree burn on her right arm.
With the fire raging around them, 58-year-old Jasusa Zuniega had run out of options. Using a blanket as protection, she and her two grandchildren raced through the blaze toward safety. Amidst the chaos, one of them tripped and fell but only suffered scratches.
She is the only major casualty of the April 18 fire that leveled around 100 homes in Barangay Talon Cuatro, Las Piñas City. According to news reports, an electrical overload caused the blaze that reached the fourth alarm.
Her husband was nearly killed in the fire. He refused repeated pleas to escape, thinking that Jasusa had perished. "My daughter and a few neighbors carried him. He only had his underwear on at the time," narrates Jasusa.
The day of the fire coincided with a scheduled 3-day water interruption for much of Las Piñas, including Talon Cuatro. This added to the difficulty of fighting the blaze, as emergency pumps were useless. Fortunately, the fire moved at an irregular pattern. Instead of burning through large swathes of residential property, its embers hopped from house to house. Jasusa's home was destroyed, but her daughter's next door was still intact and livable. She resided there for the meantime.
Upon learning of the fire, Tzu Chi volunteers surveyed the site on April 24. The next day, 120 fire-affected families received relief goods such as sleeping mats, eco-friendly blankets, detergent bars, and 20 kilos of rice from Taiwan. The water supply had also since been restored so the survivors no longer had to resort to the tank at the evacuation center for their water needs.
Jasusa's situation prompted the volunteers to add two more relief items for her. One is a jar of silver sulfadiazine (Silvex®) cream, formulated for burns of varying degrees. Tzu Chi volunteer Zenaida Gaborni treated Jesusa's wound. "We had to help her. If not, her burn may grow worse as she doesn't have the means to have it treated. We had to show her how to wash it and apply the cream," Gaborni explains.
Jasusa was prescribed antibiotics so Tzu Chi also provided her with Php2,000 in cash assistance.